Tuntutan bersikap profesional, berpikir kreatif dan inovatif, serta melek informasi teknologi menjadi syarat penting untuk bertahan ditengah sengitnya persaingan industri saat ini.
Paparan terkait tantangan dan perkembangan industri dikupas dalam kuliah tamu bertajuk "Marketing and Human Resource Outlook in Manufacturing Industry" yang berlangsung Kamis (15/2) bertempat di Jurusan Manajemen Fakultas Ekonomi dan Bisnis Universitas Brawijaya (JM FEBUB).
Tiga narasumber dihadirkan dalam kegiatan ini. Dani Kurniawan (Human Capital, Environmental Social Responsibility and Information Technology Department Head PT Andalan Multi Kencana), Harwindra Yoga (Marketing Communication Manager PT Campina Ice Cream Industry), dan Alif Priyono (Country CEO Carro Singapore). Mereka merupakan alumni JM FEBUB.
Menurut Dani, profesionalisme adalah kunci kesuksesan karir seseorang yang harus ditunjukan dalam dunia kerja. Kemampuan diri untuk beradaptasi dengan lingkungan dan kemajuan teknologi menjadi tuntutan yang tak terelakan saat ini. Selaras dengan Dani, Yoga dan Alif turut memotivasi mahasiswa untuk melihat perkembangan industri.
"No more comfortable zone", tegas Alif mengambarkan perkembangan dan persaingan bisnis. Ditambahkan, untuk menjadi besar dan sukses, beberapa perusahaan justru tidak menyediakan atau memproduksi produknya sendiri.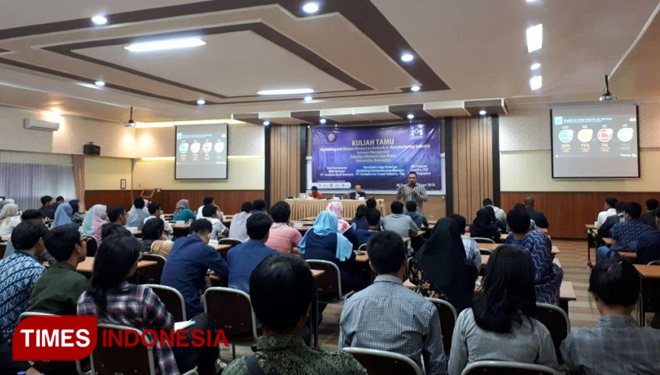 Uber, perusahaan taksi terbesar tanpa kepemilikan mobil; Facebook, perusahaan media yang sangat terkenal namun tidak menciptakan konten; dan Google Play sebagai vendor software terbesar yang hanya memiliki sedikit aplikasi, merupakan contoh perusahaan yang pintar membaca peluang dan memanfaatkan teknologi untuk meraih profit.
Perusahaan beramai-ramai menciptakan "wadah" menarik bagi individu atau perusahaan untuk bergabung dan membuat bisnis berjalan layaknya mesin otomatis.
Lebih lanjut, Yoga memaparkan bagaimana informasi teknologi mengubah strategi perusahaan. Tidak lagi menggunakan metode konvensional, perusahaan pun melirik media sosial dan aplikasi lain untuk meraih pasar yang lebih luas, sehingga sangat nyata bahwa teknologi telah mengubah kehidupan manusia. (*)
Link : https://m.timesindonesia.co.id/read/168301/20180217/083651/jm-febub-kupas-perkembangan-industri/#!-_-